Able2 Artists Captivate with Mural Unveiling!
Able2, in collaboration with local artist Abbe Raymond and artists-in-residence Mike Sutherland, Mary Corkins, Kelly Sullivan, Kathy Kohena and Maryannna Parker hosted an unveiling ceremony and reception at Able2's Ithaca Road location this morning.  Able2 and its artists met in the main visitors circle at 398 Old Ithaca Road for the unveiling of "In the Park".
A vibrant collaborative effort reflecting the self-portraits of the artists, along with representations of friends they have lost over the years, the mural was created over the summer months of 2017 in Raymond's garage. The garage became a make-shift studio among friends because of its size and accessibility for those in wheelchairs. A long-time instructor and community friend of Able2, Abbe has provided art lessons and inspiration for artists-at-heart living in a variety of Able2 residences since 1999.
"It's a colorful witness about being seen for yourself while being included in the sunny, comfortable places of belonging in every community" says Leisa Alger, Executive Director. "It's personal for the artists – created with echoes of friends lost over the years, but accomplished in a make-shift studio among friends who understand that it's our relationships that matter most."
The mural was created with exterior grade paint, and incorporated lessons on art history and appreciation during the process. "In the Park" is comprised of 3 panels, totaling a collective size of 12'x 8', and will be temporarily located outside Able2's Ithaca Rd. location over the Winter. "We see it as a symbol of honor for friends who have passed, and our on-going mission for community inclusion- and perhaps to inspire the Spring to come early" says Alger. In keeping with that, Able2 is in the process of identifying possible community locations for a more permanent home to showcase its artists within the communities they call home.
If you would like more information about this topic, please contact Steven DeWater at (607) 734-7107 ext. 9348 or email at dewaters@able-2.org.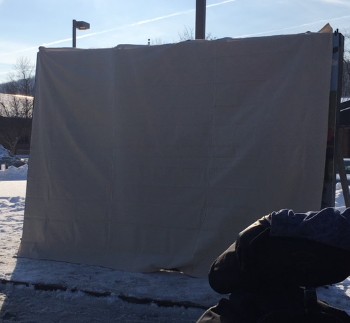 Come join our Team!
Events and fundraisers help us raise awareness and generate crucial resources to serve our community. Join us at our next event and see how you can get involved.
Find out more.

Our supports and services are designed incorporating our core values and person centered practices to further our mission and meet the needs and desires of each individual.
Take a look.

Improve your community by joining our cause. You'd be surprised at what a huge difference a little bit of your time can make.
Read more.
This form stopped accepting submissions on April 16, 2018 6:00 pm EDT.