Our mission is to enhance the quality of life of those we serve. Learn more and get involved.
Over the next couple of weeks, we will be profiling a number of dedicated Direct Support Professionals who enhance the quality of life of those we serve.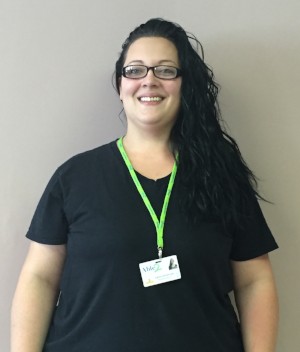 "When Caitlin is working I know that the shift will go well," says Residential Manager, Christine Cowan. "She's consistent, flexible and always has a positive attitude."
Caitlin Schoonover is a Direct Support Professional for Able2. In 2016 she helped spearhead Able2's newest Individualized Residential Alternative, Adara.
"I've always wanted to work in some type of direct care support," says Caitlin. "I love being able to help others with certain situations that they may not be able to handle on their own by providing support and reassurance. We stand beside you."
Caitlin begins each morning with a couple cups of coffee, wakes the residents at 8AM and orders meds. She views all of her training (SCIP-R, Medication Administration, etc.) as essential to working with the residents.
Justice, a resident at Adara, says that when she wants to talk or vent she prefers to talk with Caitlin because she knows that she really listens to her.
 "Our individuals are just like anyone else," explains Caitlin, "but it takes a special type of person to be in this line of work. It's not always easy. Sometimes our individuals get 'labeled' outside in the community. We try our best to make sure they are comfortable and enjoy themselves. When you're dedicated to your care for others it's all worth it."
At the end of the day, Caitlin returns home to her daughter, Camillah, who is almost 18-months old. "I love being a mommy above everything," Caitlin says. "It's a true blessing to watch her grow and develop so many beautiful characteristics."
Caitlin Schoonover lives in Elmira, New York.