E-Mod Testimonial
In the early part of March, an Environmental Modification was completed at Issiah's home.  The modifications included a re-work of the bathtub and shower.  All work was done according to plan.  Issiah and his grandmother, Ruth, love the end result.  Issiah can actually wheel into bathroom and turn around, plus use the shower area without impediment.  Issiah gave the work "his stamp of approval".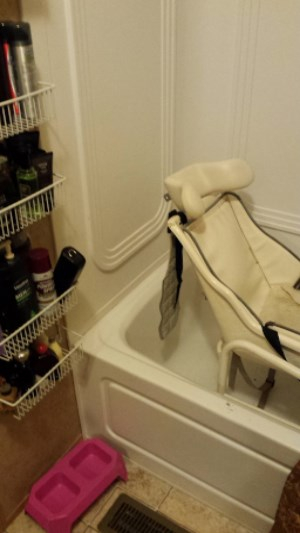 Before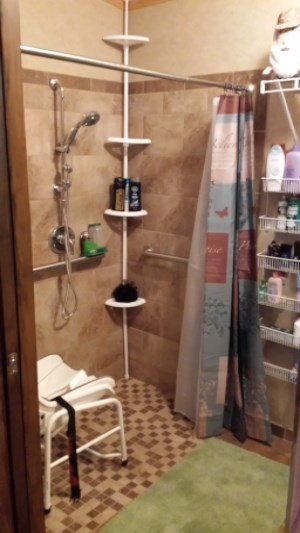 After
Environmental Modifications
Environmental Modifications (E-Mods) are physical adaptations to the home that can increase or maintain the individual's ability to live at home with independence. Environmental modifications include, but are not limited to, ramps, lifts, hand rails, shower/transfer chairs, doorway widening, bathroom modifications (such as roll-in showers) and kitchen modifications.  In addition to these physical types of modifications to the home, E-Mods can include modifications that address the individual's sensory deficits, such as Braille identifications systems and strobe light smoke detectors and alarm devices, and modifications that promote a safer environment for individuals with challenging behaviors, including window protection, reinforcement of walls, open-door signal devices and durable wall finishes.
Adaptive Technology
Assistive Technology -adaptive devices are aids, controls, appliances, or supplies - of either a communication or adaptive type - which are necessary to enable a person to increase or maintain his or her ability to live at home and in the community with independence and safety. Assistive Technology includes, but is not limited to: augmentative communication aids and devices, adaptive aids and devices, and vehicle modifications.
To be eligible for Assistive Technology or Environmental Modification services through OPWDD, the individual must be enrolled in the Home and Community-Based Services Waiver or the CAH Wavier.  These services are available in Chemung, Steuben, Schuyler, Yates, Tompkins, Tioga, and Broome counties.
For more information contact Michaleen Lehman, Director of Community Support & Workforce Development, at 734-7107, ext. 9383