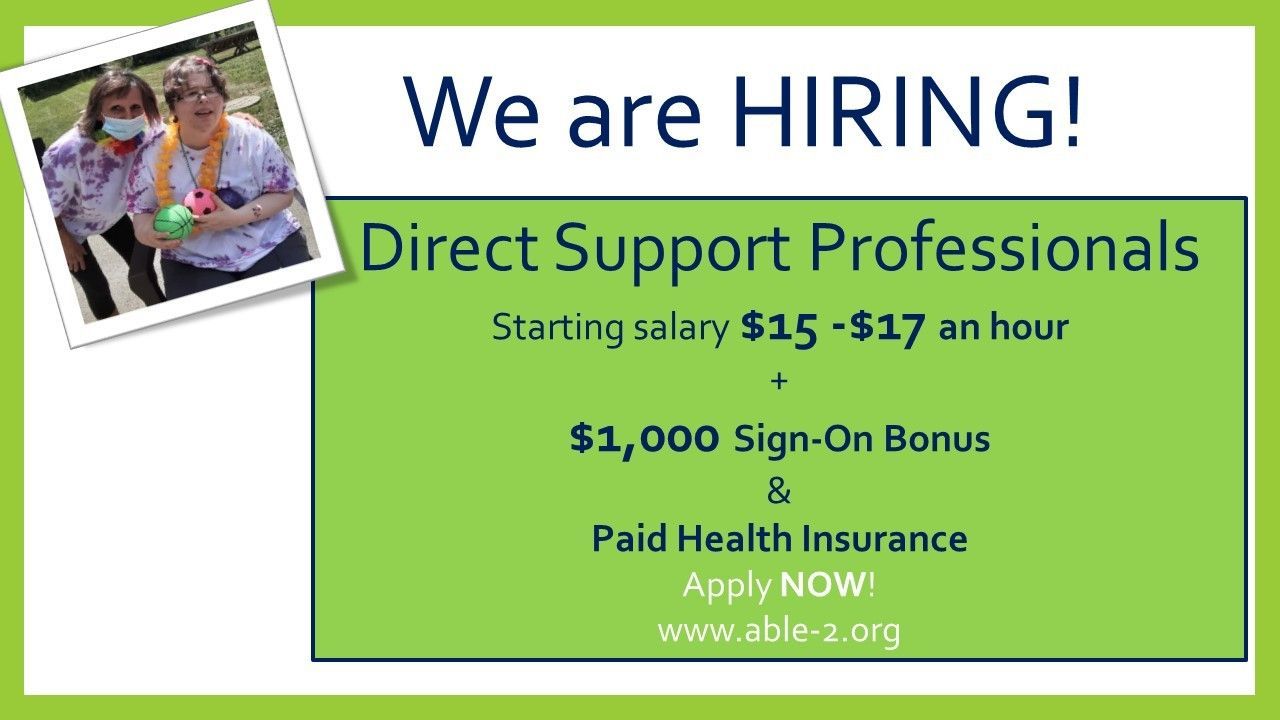 SIGN-ON BONUS
Eligible for a sign-on bonus up to $1,000*
$150 - after successful completion of 1 month
$350 - after successful completion of 3 months
$500 - after successful completion of 12 months
*Minimum number of hours worked applies. Personal Care includes any position with the following titles: Residential Instructor, Behavioral Health Technician, Program Aide, Med Clerk and Residential Supervisor. Former Able2 employees who have had more than a six month break in service and who are hired during the applicable period, are also eligible. Prorated awards will be given for part-time Personal Care positions hired during this time.
Join Our Team
Able2 recognizes, includes, supports, and empowers our employees to be the best for themselves and those we support.
We encourage family atmosphere with a culture of acceptance and growth
We provide ongoing staff training and development
We provide a comprehensive benefits package with generous paid time off and medical, dental, vision, life and disability insurance
We offer opportunities for growth and advancement for all employment levels
We protect and support our employees through quality improvement processes and our code of ethics
For the latest list of available positions and to apply, please visit our careers page below. 
Benefits of Employment
Our success and growth is largely due to the dedication and caring of our dedicated employees. We continue to grow and recruit new quality people to add to our family. We say family because that is what we truly are to each other and to the people we serve. Please consider the rewards of working with us. 
Able2 offers comprehensive benefits to qualified employees. The well-being of our employees and their families is a priority.
Benefits include:
Medical Insurance (including options for free health insurance for individual and family coverage)

Dental Insurance

Vision Plan

Basic Life Insurance (free to employees regularly scheduled for 20 hours or more per week, covers 2x your salary)                                                                                                                                                                                              

Voluntary Life and AD&D Insurance

Voluntary Spouse/Child Life and AD&D Insurance

NY State Disability (provided at no cost to employee)

Voluntary Short Term and Long Term Disability

Health Savings Account (HSA) and Flexible Spending Account (FSA)

Cancer Coverage

Accident Coverage

Personal Time Off (PTO) (available to employees regularly scheduled for 20 hours or more per week)

401k Retirement Plan (up to 4% employer match upon one year completion of service)

Employee Assistance Program (EAP)
To talk to Human Resources about an opportunity, call 607-734-7107 ext. 9384.