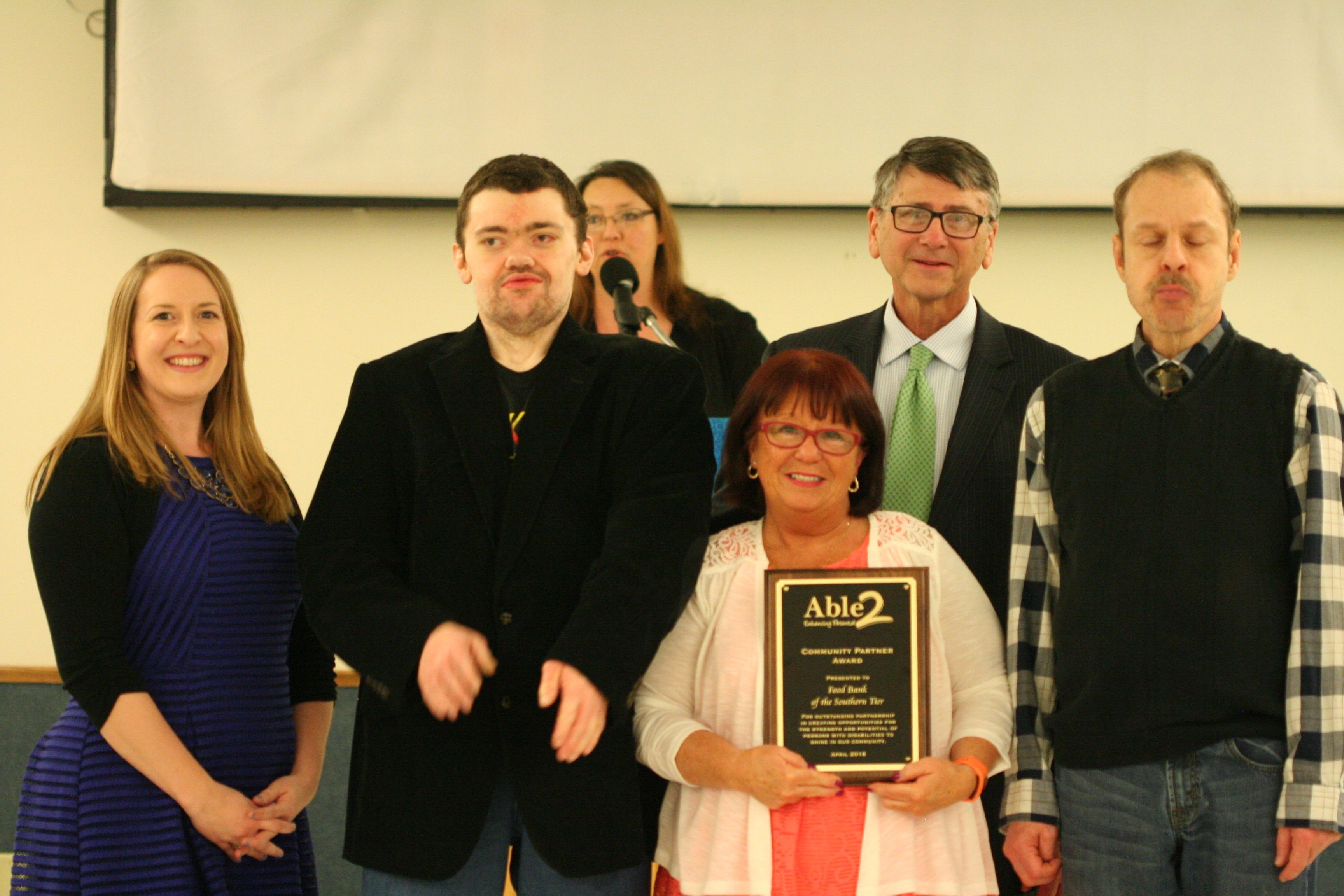 During the Annual Board Meeting portion of the event, a new slate of officers along with board member renewals was announced:
Board President, Aaron Alsheimer
Board Vice President, Rita McCabe
Board Secretary, David Eichenauer
Board Treasurer, Debra Stanton
Board Members are John Kohena, Ann LeMark, Rick Lintal, Larry Rice, Ted Semesky
Executive Director, Mark Peters recognized our Years of Service Recipients and thanked each of them for their dedication to our agency: 5 Years - Tiffany Bennett, Filomena Coxford, Sandra Jones, Bobbi Jo Pylkas, Jessica Thomas; 10 Years - Clesson "Skeet" Becker, Susan Beeman, Marc Gauthier; 15 Years - Rebecca Bonsignore, Deborah Lamb; 20 Years - Richard Kuehner;
25 Years - Donna Felker.
Nancy Jean Perkins accepted this year's Community Partner Award on behalf of the Food Bank of the Southern Tier. The Food Bank has been a patient, passionate, highly motivated ally in creating meaningful opportunities for persons with disabilities. It's a partnership that works to develop the potential of individuals for the benefit of the community. Able2 is grateful to the Food Bank of the Southern Tier for their support and commitment to our Community Hab volunteers!
Leisa Alger, Associate Executive Director also recognized award recipients in the following categories: Fresh Impact, Esenam Dankwa - Career of Distinction, Susan Beeman - Making It Happen, Mark Swartwood.
Compassion, dedication to person-centered supports and boundless creativity are the reasons Sally Cory was honored with this year's Employee of the Year Award!
Able2 is thankful for the overall generosity of the people in the community who help make it possible for us to enhance the quality of life of those we serve.