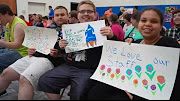 Join CP of NYS and the #bFair2DirectCare coalition and spread the word
Like us on Facebook
Follow us on Twitter
We want people to understand that direct support professionals (DSPs) and other low-wage workers at agencies that provide support to people with disabilities and their families are not treated fairly by the State of New York.
These dedicated professionals do much more than the minimum, yet most earn little more than minimum wage. The only way that can change is for the Governor and the Legislature to act.
Please follow us on social media, share and retweet our messages so that everyone will understand what needs to be done.
We hope you will join with us and our colleagues at #bFair2DirectCare.
New Yorkers with disabilities and those who support them are counting on us all.